Horses
THERAPY HORSES
I'm Lucy and proud to be an Appaloosa. I was born in 1988 and am 15.3 hands. I came to live at ROSL in 2001 and know I have many important jobs. I am healthier than ever before and like to help my riders feel better, too. I am patient and caring with each of my riders, but in the herd I am the alpha mare!
Ola. Me llamo Juan Diego. Oh, pardon me, that's John James in English. I started as a therapy horse when I was only three. I was chosen especially for my size, 13 hands, and my outgoing personality. I love to play with toys, new volunteers, kids and pretty much anything I can get my mouth or hoof on. I am a bay quarter horse, muscled, athletic, versatile and quick. My breed got its name because we could run a quarter mile faster than any other horse.
Johnny. I am a Morgan horse born in 1993 and joined the ROSL team in 2006. Morgans are known for their elegance, versatility and endurance. We are very muscular, too, which is one reason why my breed was once the official horse of the United States Calgary. I am an inquisitive horse who loves to learn and I definitely have a mind of my own.
I'm Remington, an Appendix Cross horse born in 1989. Appendix Cross means I am a cross between a Thoroughbred and a Quarter horse, although I also have some Oldenburg in my blood, as well. My breed is best known for being tall sports horses with excellent gaits and jumping ability, and I stand at 15.2 hands. I joined ROSL in spring of 2011. As a seasoned student horse for beginner dressage riders, I've helped many beginner riders learn balance and control. I am a very patient horse and love my special purpose at ROSL. You can call me "Remi" for short.
Do you like the phrase, "Hey girlfriend"? Well that is all about me—Amiga means "girlfriend!" I am the perfect girlfriend, too. I love having my mane combed , groomed until I'm sleek and shiny, and I love keeping track of the other horses in my herd! You can come to me for any gossip heard out in the pasture and I have all the characteristics of a Welsh pony.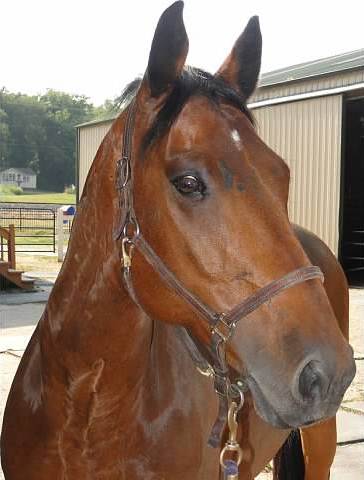 Zen, that's short for "Zen"zell Washington! I'm a 16.3, Dutch Warm Blood, who's spent some time in Texas and Florida as a level II dressage horse. At just 8 years old, I think I have most things figured out and there's not too much that upsets me. I love being around people and hanging out in the pasture with my new herd. I can't wait to get started as a therapy horse, I love feeling useful and being a part of a team!
My name is Buddy and that's exactly who I am. I love being buddies with everyone—hanging out in the pasture, going for a ride, being groomed—you can count on me for company I have two distinct breeds in my blood, Arabian and American Paint horse. Although my fur is white, when I get wet you can see my true colors! Dark and light splotches!