Testimonials
Shannon, Physical Therapy Parent
Brandon has Chromosomal Deletion Syndrome 4QT21. It is a rare condition with very little information but has affected Brandon greatly. In addition, he has an underdeveloped cerebellum which affects his gross motor skills along with his balance and coordination. He has global developmental delay which means he is cognitively impaired; he is completely nonverbal, has low muscle tone and is unable to walk. Brandon has been in therapy since he was 3 months old. He is now 8 years old and has had a slow progression in his therapies. He became bored with working on the same skills month after month, year after year. Through the suggestion of doctors and therapists we decided to pursue equine assisted therapy. He really needed to strengthen his core and work on his gait as he is unsure of how to take steps. The horses provide the same gait pattern as humans and we are hoping through Brandon riding a therapy horse on a weekly basis it will wire his brain with a gait pattern and strengthen his core. We found Ride On St. Louis and we were put on a waiting list. The therapists and times are limited due to the need and cost associated with the therapy. After waiting for a year, we received the phone call that Ride On St. Louis had an opening in their program for Brandon. We were elated to say the least! However, insurance does not cover the therapy sessions. All of Brandon's equipment and therapies can get quite costly so we weren't sure how we would pay for it but at the same time didn't want to turn down this wonderful opportunity. Ride On St. Louis was able to provide therapy to Brandon through donations. It has been a huge success for Brandon! We have seen increased strength in his core and he is sitting much straighter. Not to mention, he is having FUN again at therapy. Since he is nonverbal, he expresses his happiness through laughter and clapping his hands while on the horse. We are so grateful to Ride on St. Louis for providing this opportunity; to give our son the tools it takes to hopefully take steps on his own someday. Thank You!
Rich, Wounded Warriors Participant
I knew nothing of Ride On St. Louis (ROSL). Prior to my finding out about ROSL, I was an Iraqi veteran suffering from PTSD, anxiety and depression. I also had a bad lower back injury that prevented me from lifting items, standing and sitting for long periods of time. I was on several medications for my PTSD, anxiety, depression and back injury.
Prior to my above mentioned injuries, I served 20 years in the U.S. Military where I was highly decorated and admired by peers and subordinates, alike. I played racquetball at least five times a week as well as softball. I enjoyed life and helping other people. As my injuries started to progress, I didn't want any contact with the outside world. I didn't like talking on the telephone or be in crowded places. My temper was inexcusable and I could fly off the handle at a moment's notice. I was alienating my friends and family, and I was missing a lot of work. I tried several different things to gain control of what was happening to me, but none of these things had worked. I was on a roller coaster ride for four years. I would have some good days, but they were mostly bad. Many nights I spent crying, not knowing what I needed to do to get out of this pain I was feeling. Furthermore, at this time in my life I was on 17 different medications. I thought the medicine was making me feel bad, so I stopped taking them. I soon realized that I needed them to just be able to function just around the house.
Upon my arrival back home from combat duty in Iraq, I joined the Wounded Warrior Project (WWP). Almost on a weekly basis I would receive e-mails from the WWP asking how I was doing, etc. Late in 2012, I received an e-mail telling of great success with equine assisted therapy for combat veterans suffering from PTSD. The e-mail went on to tell me of an organization close to my house that was providing this service, and if I wanted to try it out, I could fill out an application; if selected, I could go through the classes free of charge. So I filled out the application and within a week I was put in contact with Ride On St Louis. ROSL reached out to me and started working with my injuries. Immediately they treated me as a person and not a patient. They cared about my injuries and ROSL designed a program for me so I could successfully take full advantage of what ROSL had to offer. My first face-to-face meeting with ROSL was of an administration-get-to-know-you formality.
ROSL was very respectful to my needs and my concerns. ROSL told me that at any time during my therapy sessions, if I felt uncomfortable or was in pain, to let them know. During my ten week therapy session at no time was I ever in pain or uncomfortable. The sessions always started with grooming my horse (Zen) and saddling up. ROSL takes great care-with safety always at the forefront and throughout the therapy sessions. All throughout my therapy at ROSL, we as a team kept advancing the therapy until it was safe and comfortable for me to groom and ready the horse all by myself. In addition, I was able to mount and dismount the horse by myself. The very first meeting I was very nervous, but ROSL put me at ease right away. The results were immediate for me. I started not to miss work as much, my anger issues were going away and I always looked forward to my Thursday sessions. At the end of my ten weeks of therapy I was in a better place mentally, physically and spiritually. I have been away from the ROSL program for eight months now. Since the end of my therapy there, I have missed less than five days of work, I have been more active with my interests, I have attained pride in myself and I have grown professionally. I interact more in public, my mental health has improved and I have weaned myself off of some of my medications. In addition, I have gone from seeing my mental health professional on a weekly basis, to seeing him only twice a year (and that is for a basic mental health check). The last visit I had, I was told that I was doing remarkable! This was all possible through ROSL. From the very first moment they treated me nicely and helped me to become a person again. Their training and professionalism is top notch. How they do what they do is truly a Blessing from God. I have recommended this program to fellow Veterans who have had the same success. ROSL is and forever an organization that I will hold near and dear to my heart. The staff is top notch and they are dedicated in their quest for helping those who will benefit from Equine [Assisted] Therapy.
Cassie, Occupational Therapy Parent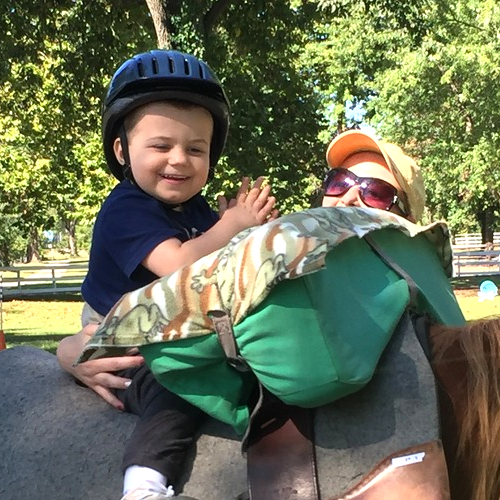 "I can not express enough how amazing this program has been for Noah! Noah's has cerebellar atrophy, an extremely rare progressive disease affecting the brain. Before he started [at Ride On St. Louis], Noah tended to be in a bad mood most of the time. He was constantly sick, had no motivation to walk or talk and got frustrated easily. After one session of hippotherapy he has started walking with a gait-trainer, occasionally speaking short sentences and has started to take interest in climbing. His teacher reports he has more interest in learning and even though he still has a weak attention span, he has blossomed into a happy little boy. I could not imagine taking Noah out of this program! It has truly changed his life!"
Ken, Volunteer
I have been volunteering at ROSL for approximately three years and have made many good friends and have been rewarded with an experience of a lifetime. I have been a sidewalker and lead horses for various riders each with a different disability. During this time I have come to appreciate things I have taken for granted, such as, throwing a ball, communicating and sitting up straight. To see the therapists work with these kids and the way they respond is very uplifting. In the last couple of weeks Joey (one of my riders) tossed a bean bag 5 ft. not a big deal right? Wrong. It took all his might to accomplish this. You should have seen the smile on his face. Joey and I have become friends, we play hide and seek when he comes to therapy, he warns me not to hit my head when I walk onto the mounting deck. As Joey's verbal skills are minimal he will just say, "no, no, no." It is a game we play. He signs to us when he wants to hit the red ball. It is hard to put into words what is accomplished at ROSL because what is accomplished with each rider is not done in leaps and bounds it is in small incremental steps. It is so rewarding to be there when these small steps are taken. I just wish I had known about ROSL a little sooner.
Kayla, Adaptive Riding Client
"Horses are healers of ANYTHING!!! Illness, hurt, negativity–just tell a horse (Diego) your problems, and he will take it all away and will never reveal a secret. There's something special between a horse (Beau) and his rider. It's a bond of love so mighty that NOTHING can break it. Most wonderful of all is a friend and instructor (YOU) who will always be there to care, for prayer, anytime, anywhere."
Vicki, Volunteer
"I can't emphasize enough how fulfilling it is to be a part of such a wonderful organization. I sidewalk every Wednesday when the program is in session, sometimes arriving stressed from a crazy day at work but ALWAYS leaving with a warm heart knowing that in some very small way I was able to help someone. Just being at Ride On St. Louis lends itself to 'feeling good'–you are surrounded by wonderful folks, beautiful horses who all work so hard to help make a difference. It's simply a wonderful place to be!"
Joe, Physical Therapy Client
"
My name is Joe. I go to Ride On St. Louis in Kimmswick, MO. I ride a horse named Lucy. She is brown and has a black mane and brown tail. She has four white feet. I ride with two walkers that lead Lucy. We ride in the ring and on the trails."
Delta, Adaptive Riding Parent
Drew has Pervasive Developmental Delay-NOS (an Autism Spectrum Disorder), OCD, Tourette's Syndrome and ADHD. Despite years of participation in adaptive sports, his running gait is still staggered. He is off balance when he walks or runs. As is typical in many with ASD's, Drew does not always understand non-verbal communicative meaning. He struggles with looking at people when they are speaking to him. At times he would become upset, angry and/or inconsolable with news stories or life events. I kept hearing about the benefits of equine assisted activities and therapies, but thought Drew did not need the intensive treatments like those with CP and other disabilities need. Still, I decided to get him on the waiting list to give it a try. After several years, we received the phone call that ROSL had an opening available. I discussed with the therapist Drew's needs and she mentioned their adaptive riding program. "I'm sure he'd enjoy that, but, learning to ride isn't what we were looking for," I explained. The therapist said there were therapies used in this program that teach balance, coordination and they could encourage Drew's communication skills. Balance and coordination were two of the areas of need. Also, the speech therapist we had last seen felt she had nothing more she could do to help Drew with his communication, he just needed practice. If therapeutic riding could be of help in that area too, then it could be just what he needed! With the discount offered for the program, we were able to give it a try! The first day of therapeutic riding, Drew's instructor, Candy, introduced herself with a big smile. With helmet on, Drew willingly went with her to the wooden "deck" beside which Johnny (therapy horse) was standing. Drew was introduced to his "side walkers" and to Marita, another instructor. Drew and Johnny were introduced by Drew petting his coat—something that was calming to both horse and rider. Drew looked at Johnny, all the while nodding his head that he was hearing what the instructor was saying to him. Drew learned to get on and off Johnny safely. While on Johnny, Candy helped Drew get centered on the saddle and balance himself while on the horse. When he would begin to lean or slide to one side, Candy would help him get situated again, and helped him become aware of how it felt when he was balanced. To get Johnny to walk, Drew had to speak three words very clearly so the horse could understand his instructions: "Walk on, Johnny!" When Drew spoke those words clearly, Johnny walked! I was amazed as I watched Candy and Johnny work with Drew. Drew worked hard to learn to balance in the saddle. Not giving Drew a chance to let his thoughts wonder, Candy would repeat instructions, bringing Drew back to what he was doing. By the end of the first session, I was crying "happy tears," and Candy gave me an understanding hug. It's been a couple of years since that first day. Marita continues working with Drew. Johnny and Drew are still friends; however Buddy is the horse being used to teach Drew new ways to strengthen his abdominal core, thighs, legs, balance and walking gait. He is busy following instructions as he reaches for items Marita uses to exercise and strengthen his balance and core. Marita also works with Drew in understanding how verbal and non-verbal communication work while working with the horse. Also, when at Ride On St. Louis, Drew makes extra effort to not "zone out," something that is sometimes an autism trait. He works hard to attend to the task at hand. The awareness Marita has is amazing. One day she mentioned to me that Drew's right foot turns inward when he's on Buddy. I had not told anyone that Drew's right foot turned inward almost from birth! When Drew was young, his father and I did exercises with him to be able to stand and learn to walk as a toddler. Apparently, Drew's foot still turns slightly when he's not standing. Now, Marita and Buddy are working with Drew to learn to hold his feet straight even when one keeps turning on him. Drew's Community Support Specialist, Cooke, has gone with Drew to one of his therapeutic riding sessions. She verbalized that which Drew's father and I have said: On the horse, Drew is a totally different person. He's more confident working toward his goals. This is important as he doubts his ability on a lot of things, which holds him back sometimes. It is our hope that confidence will transfer to other areas of his life. He is calm, and more willing to listen/follow through tasks given him during his time at ROSL. The walking balance of Drew has improved. His running gait is a work in process. Slowing Drew down when he speaks has shown some improvement, as well. I'm SO grateful for ROSL! With the therapies they offer, Drew now has opportunity to learn better physical and communicative skills! We aren't there yet, but we will be! It's a goal still in process!"
Marie, Volunteer
I started volunteering at Ride on St. Louis as a fourteen year old girl with no horse experience, and severe depression. Now after four years has passed I can truly say that Ride on St. Louis has not only changed my life, but saved it in its entirety. When I found out about the opportunity to volunteer at ROSL I saw it as a chance to help change the lives of disabled individuals. I never thought it would be possible for the horses and the volunteers would contribute to my future success—what's more, the clients themselves. Throughout my time spent at ROSL I have found a group of people I am happy to say is more of a family than I have at home. No one fights, yells or puts anyone down. This was an environment I had never lived in before. Like the kids around me I learned many life lessons, and facts about horses. My second year I made a relationship with someone I hope to never lose. Marita Wassman (ROSL instructor and Program Director) became my hero and my biggest inspiration. With her assistance I gained enough confidence to start riding and eventually acquire my own horse, Gulliver. At ROSL, I have discovered what it means to be happy and to have complete faith and support in the decisions I make. In all honesty the experience at ROSL has saved my life. It made me grow up, raise my self-confidence and self-esteem, and really discover who I really am. I can truly say that I am grateful for each and every person who either rides, or dedicates their time to make the program possible. We often take for granted the people or things that surround us. Spending the last four years giving to those around me has opened my eye to God's plan for me. ROSL has allowed me to see that being a therapeutic riding instructor is how I want to spend the rest of my life. It is a comfortable feeling to know how I would like things to work out, and to have such a great connection with God. Thank you Ride on St. Louis for giving me a religious connection to God. Without you I would not have a family to call my own or a home for Gulliver and myself. You gave me the happiness that I was searching years for and the confidence to be myself. Without you I would be no one.
Jean, Volunteer
Hey Ladies!
Do you have ANY idea how exceptional you are??? I am reminded of this the day after I spend time at ROSL. I was there most of the day yesterday, and as I tried to drag myself out of bed this morning, I was thinking of you and how amazing it is that you do this 4 days in a row! Granted, you are a few years younger than I am, but still….
No one can appreciate the effort you put in to giving each client a positive therapeutic experience, or the physical demands on your body. Even if they were to follow you around for a day, they still wouldn't be privy to the mental and emotional energy you expend. It must truly be a passion and calling for you!
I realize at times that there must be doubts in your mind as to whether it's all worth it, (you are human after all!), but you ARE making a difference -not only in the clients you serve, but with the volunteers you work with.
Just had to put this out there. Keep up the good work!!
Ross, Volunteer & Professional
Ride On St. Louis offers remarkably valuable services. They provide powerful and complex therapy and therapeutic activities for people with disabilities. Services take full benefit of the relationship between people and horses.
Therapy and therapeutic techniques at Ride On St. Louis ensure consistent high quality services. As a volunteer, I am attracted to the careful supervision and close attention to safe and effective methods. Both training and regular support are very much appreciated and obviously successful. Parents and caregivers reinforce my appreciation of Ride On St. Louis' approach and success.
In addition to the benefits that clients, participants, and their families receive, volunteers also benefit at Ride On St. Louis. I feel great each time I volunteer because I know I have done something important and I did it well. There's a strong element of personal reward that is delightfully supported by Ride On St. Louis staff and other volunteers.
Beth, Occupational Therapy Parent
My daughter, Claire, started with ROSL last year after participating in therapeutic horseback riding through another organization. We have been thrilled with the quality of the instruction at ROSL and the ability of Danielle, Claire's therapist, to keep Claire working hard (and having fun). Compared to other programs, ROSL is more focused and the instruction is very structured, individualized and productive. We see Claire doing things that we've not seen her do elsewhere to work on core strength, coordination and communication. Danielle's high expectations and ability as a therapist get the very best out of Claire every week. We love it!