Urgent Request: Diego Needs You!
$1000 GOAL MET!
Thank you to Judy Jackson who donated $600!
Thank you to Laurie Bann who donated $200!
Thank you to Patricia Nestle who donated $125!
Thank you to Anonymous who donated $100!
Thank you to Brian Foster who donated $100!
Thank you to Maureen Coughlin who donated $75!
Thank you to Anita Johnson who donated $50!
Thank you to Anonymous who donated $30!
Thank you to Katelyn Mase who donated $5!
---
Update: 9-28-17
We are just so touched and thankful by all the donations over the last two days to help Diego with his hock treatment. 😍⭐JUDY JACKSON, LAURIE BAAN, PATRICIA NESTLE, BRIAN FOSTER, MAUREEN COUGHLIN, ANITA JOHNSON, & KATELYN MASE 😍⭐ We will be scheduling Diego's x-rays and providing updates as they become available.
The trip to the Equine Hospital will likely take an entire day from hauling preparations, hauling (an hour's drive each way), the examination, x-rays, return trip and trailer clean-up. Stay tuned for updates on Facebook or our website. This is such a heartfelt gift; Thank you from Diego, his clients and all of us at ROSL 💝
---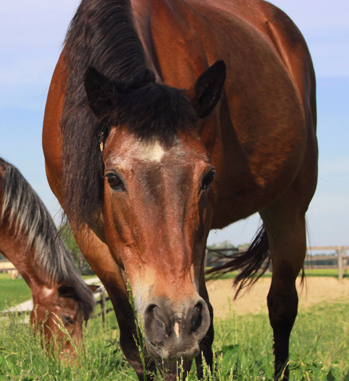 Diego, our 19 year-old pony, is normally as playful and inquisitive as he was when he first joined the Ride On St. Louis herd 16 years ago. However, Diego has had issues arise (from a previous injury) over the last year that have greatly affected his health, performance and happiness. About 10 years ago, our little Diego was playing with our large Percheron and got a kick to his hock.
The stress done to the joint has weakened with age and has manifested once again in Diego's daily activities. Things as simple as trotting, crossing under the hind-legs, itching with his hind-leg and playing with his herd mates and have become painful for Diego. Diego can no longer serve his once, eight clients per week. Diego received a steroid injection into the inter-tarsal joint that only helped for 4 weeks, concluding that there may be additional damage. Diego has been receiving several medicines, joint supplements, chiropractic service (thanks to Petco Foundation and discounts by Dr. Ava Frick), and participates in stretching and massage to control pain, promote health and prevent further damage.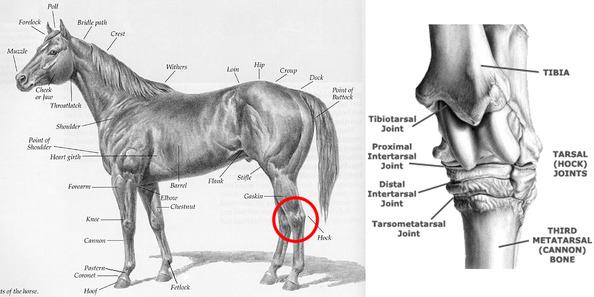 The next steps of getting Diego back to himself include full x-rays and most likely an injection of a non-steroid, regenerative protein solution to treat ailments such as osteoarthritis, tendon injuries, ligament injuries, cartilage damage and fracture damage. We are unable to afford this added expense and the longer we wait the more pain and discomfort Diego will endure, as well as the possibility to incur further damage and soundness issues. Diego's dynamic movement and size combination are unique to our herd at ROSL and benefits specific client needs and abilities. Without Diego, many clients miss out on the maximum benefit they can be receiving through his specialized movement.
Our goal is to raise at least $1000 to help treat Diego's hock injury so he can get back to being himself and sharing his movement with his clients. If you are able to contribute to this emergency fund for Diego, please give online, or by mail or phone. We will be posting updates on Diego's procedure and recovery on our website and Facebook page.